Forks Outfitters
Recipes
https://grocery.forksoutfitters.com/Recipes/Detail/9034/Roasted_Garlic_Sweet_Potato_Soup_with_Parmesan-Baked_Croutons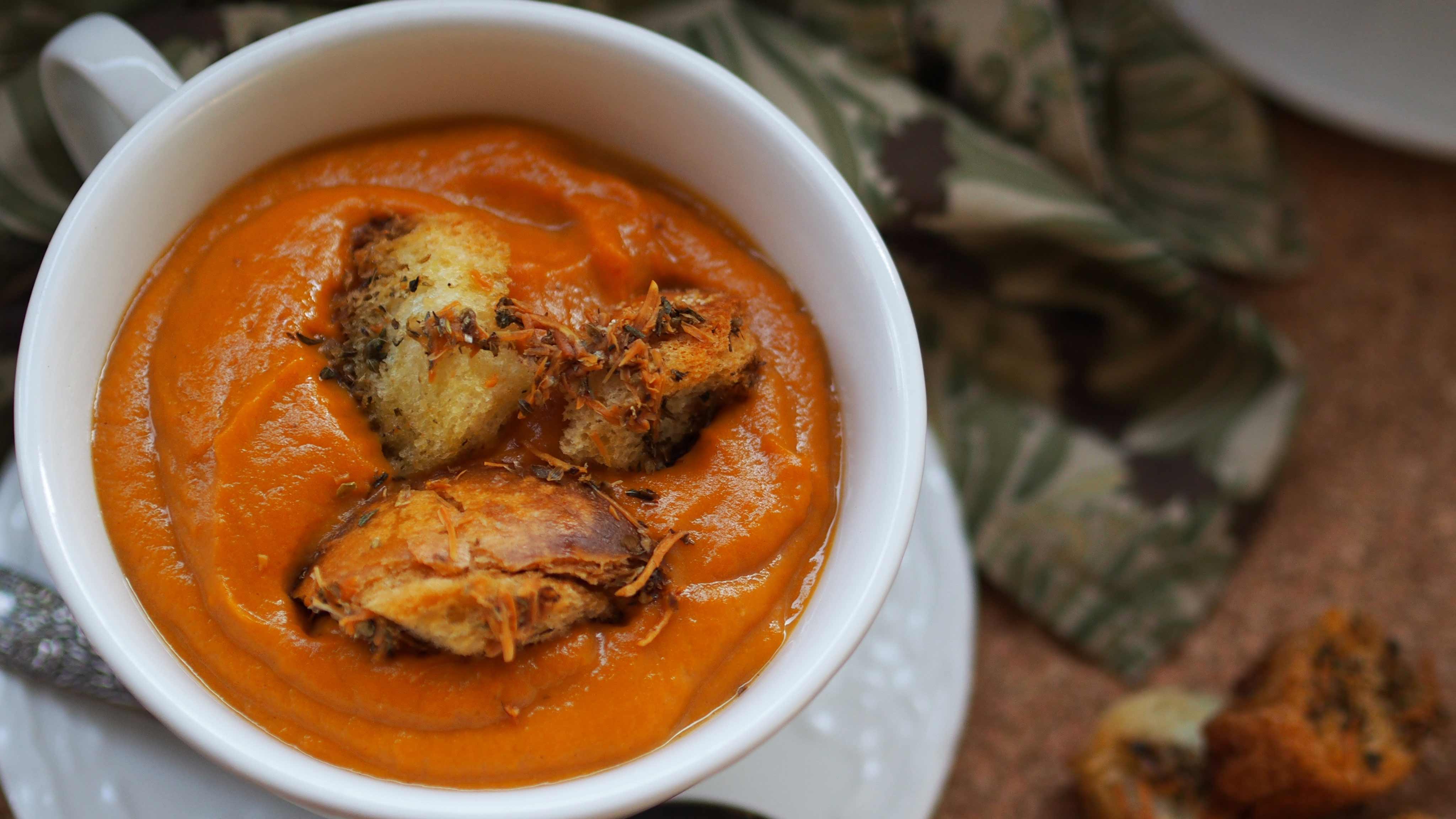 Roasted Garlic Sweet Potato Soup with Parmesan-Baked Croutons
Yield: 4-6 servings
Preparation Time: 20 min; Cook: 1 hour 45 min
Ingredients
For the Roasted Garlic:

1
head

garlic

2
teaspoons

olive oil

pinch of salt

For the Croutons:

3
cups

day old bread, cut into 1/4 inch cubes

1/4
cup

olive oil

2/3
cup

parmesan cheese, freshly grated

For the Soup:

1
tablespoon

olive oil

1
large

onion, diced

1

shallot, diced

1
teaspoon

salt

freshly ground black pepper

1/2
teaspoon

cinnamon

1
head

garlic, roasted

6

sweet potatoes, peeled and cut into 1-inch cubes

5
cups

chicken (or vegetable) stock
Directions:
For the roasted garlic:
Preheat oven to 400 degrees F.

Peel most of the paper off the garlic, but leave the cloves intact. Trim the top of the head of garlic to expose the cloves. Drizzle with olive oil and top with salt. Wrap the garlic in a sheet of aluminum foil and roast for 40 to 50 minutes or until the center clove is easily pierced with a paring knife. Remove from oven, let cool and press the bottom of the clove to remove the garlic from the peel.

For the croutons:
Preheat oven to 350 degrees F

In a mixing bowl, toss bread cubes with olive oil and parmesan. Transfer to a baking pan and bake for 30 minutes, or until golden brown.

For the soup:
In a large pot, heat oil over medium heat. Add onion and shallot and season lightly with salt and pepper. Cook until translucent, about 5 minutes. Add sweet potatoes, stock, and roasted garlic. Bring mixture to a boil. Reduce heat and simmer for 30 minutes, or until sweet potatoes are tender. Using a blender, stick blender, or food processor, puree mixture (in batches, if necessary). Return mixture to the pot. Season to taste with salt and pepper. Top with croutons and serve immediately.
Photo and food styling by Webstop
Please note that some ingredients and brands may not be available in every store.
Forks Outfitters
Recipes
https://grocery.forksoutfitters.com/Recipes/Detail/9034/